| | | |
| --- | --- | --- |
| | Hydrangea aspera -rough leaved hydrangea | |
| | | |
Hydrangea aspera belongs to the subsection Asperae , these include among others, the Hydrangea involucrata , H. sargentiana , H. villosa , H. strigosa , H.Kawakami , H.longifolia , H.longipes and H.sikokiana .

All these species are native to Southeast Asia and grow at an altitude ranging between 400m and 2,500 m , they all have a real shrub - form, branching from the base .

Hydrangea ' Kawakami ' we find only in Taiwan . There are also numerous hybrids between villosa and aspera and between aspera and involucrata .

Both H.aspera , H.villosa as H.sargentiana are characterized by their large green hairy leaves with a slightly rounded bottom and large flat flower heads with an intriguing play of contrast between the many fertile flowers inside and large sterile florets .

Care - tips: They bloom depending on the species between June and September , the hardiness is variable , some species can endure a lot of cold , the other require more temperate climates.

They all dislike heavy soil and and do not cope with draughts and cold winds . A sheltered site in partial shade ,in moist but well- permeable soil is therefore a basic requirement for success .

Keep in mind that most species can reach a height of 2 to 4m after many years and thus certainly need the necessary space .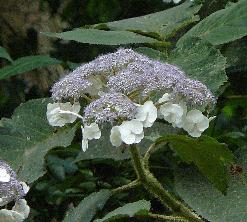 Hydrangea aspera varieties - click on the pictures and find out more
Hydrangea aspera macrophylla, origin China, big, tall upright shrub, H: 2-3m, Spread: 2-3m, velvet hydrangea with large flat, almost dome-shaped flowers, lilac fertile flowers, big white sterile flowers, flowering period: June-august .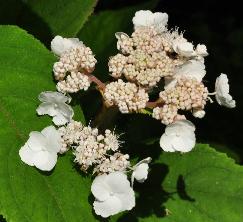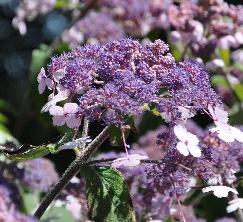 Hydrangea aspera 'Peter Chappell', chinese rough leaved hydrangea, big strong hairy leaves and pale pink to pinkish white flowers in shaped screen, H: 1.5-2.5 m, spread : 2m, Flowering Period: June-August. Reasonably hardy, Usda zone 6b.
Hydrangea aspera '. Spinners'-syn aspera x villosa' Spinners' - beautiful hybrid with narrow, slightly hairy leaves and lilac purple inner fertile flowers surrounded by lighter violet sterile flowers H: 2-2.5 m. Flowering-July-september - More info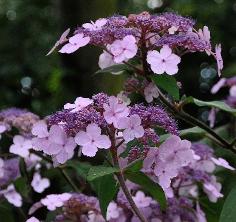 Hydrangea aspera subsp. villosa, syn. Hydrangea villosa, medium to large shrub H: 2-2.5 m, S:. 2-2.5 m - bushy growth, large flat flowers, purple fertile flowers ,lila-rosy outside sterile flowers bountiful flowering, flowering period Aug.-Sept.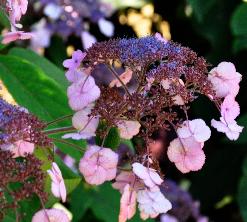 Hydrangea aspera x villosa 'Anthony Bullivant', compact rough leaved hydrangeas, flat vivid flowers, beautiful contrasting H: 2m - Spread: 2m (after 5 - 10y), flowering period: july - September Hardy.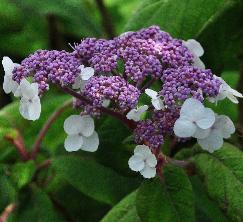 Hydrangea aspera subsp.sargentiana, syn. Hydrangea sargentiana. , High upright shrub with large oval, very hairy and pointed leaves, purple fertile flowers in the middle an outher ,white sterile flowers , H: 2.5-4m - S: 2-3m, Flowering: mid July - end of August.